Channel Finger/D Ring Vertical Cable Management
£31.50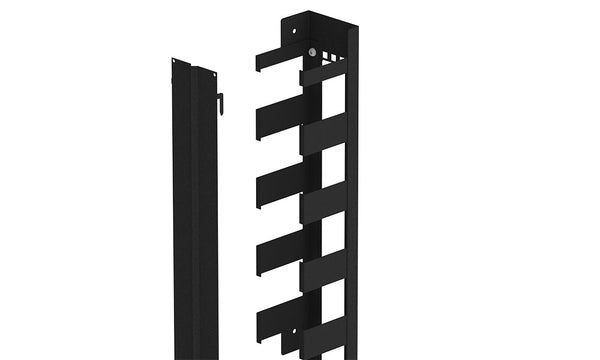 Channel Finger/D Ring Vertical Cable Management
£31.50
DESCRIPTION
SPEC & GUIDES
Vertical Cable Managers simplify cable routing during installation and maintenance. All metal construction with cable management fingers and clip on doors. Also accepts 19" 4 x D Ring cable management panels (not included) with 65mm dia rings, which are mounted vertically within each channel to manage cables. Each vertical channel fits to the front of 800mm wide EFS E Series Enclosures between the 19" vertical mounting profiles and the enclosure's side wall. Sold as a pair.

Suitable for use with 800mm wide EFS enclosures.
Metal construction with cable management fingers and door.
Optional 19" D Ring Cable Management Panels mounted vertically in each channel. Two per side channel on 27U & three per side on 36U and above.
Cut outs in the channel (when not using D Ring Cable Manager), allows front to rear cable routing.
Cable Management Channel 93mm(W) x 103mm(D).
Supplied with fixing hardware.
Various U Heights available.
Manufactured in Black powder coated steel.
Sold as a pair.

.