External IP68 24 Fibre Splice Box (48 Fibres With Optional Trays)
£38.72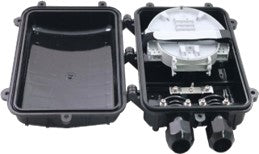 External IP68 24 Fibre Splice Box (48 Fibres With Optional Trays)
£38.72
DESCRIPTION

SPEC & GUIDES


IP68 rated FTTx moulded plastic external splice box suitable for protecting up to 48 fibre splice terminations. Supplied as standard with 2 x 12 fibre splice tray and will accept a further two trays as required. Trays are hinged to allow access to other trays and open beyond 90 degrees, enabling unencumbered access to installed fibres. With a water tight silicon seal, suitable for direct burial or wall mounting and resistant to UV and vibration.

Two cable entry/exit points with mechanical environmental seals. No specialist tools are required to enter the enclosure and re-entry to joints can be made without disturbing existing fibres. Cable strength member retention is included as standard.

An excellent temperature range of -40 degrees to +65 degrees for extreme weather conditions and long term reliability. Compliant with IEC standards covering water immersion, UV resistance, temperature cycling, salt mist, fungus resistance, chemical resistance and re-entry testing.   


IP68 rating with water tight seal.
Suitable for direct burial.
With 1 x 24 fibre splice tray as standard.
Accepts a further 3 x 24 fibre trays (96 fibres total).
No specialist tools for access.
4 x cable entry points.
Dimensions: 432 x 186 x 100mm.

Tab 3 content goes here.