External IP68 24 x Fibre Splice Box (96 Fibres With Optional Trays)
£57.44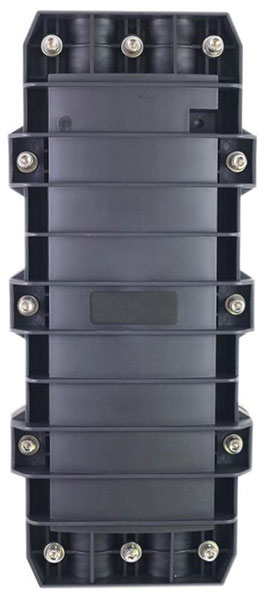 External IP68 24 x Fibre Splice Box (96 Fibres With Optional Trays)
£57.44
DESCRIPTION

SPEC & GUIDES



External IP68 rated FTTx moulded plastic external splice box suitable for protecting up to 96 fibre splice terminations. Supplied as standard with 1 x 24 fibre splice tray and will accept a further three trays as required. Trays are hinged to allow access to other trays and open beyond 90 degrees, enabling unencumbered access to installed fibres. With a water tight silicon seal, suitable for direct burial or wall mounting and resistant to UV and vibration.


No special tools are required to access the splice box which can be easily re-entered by removing the non-oxidising screws without disturbing existing fibres. Four cable entry points with mechanical environmental seals for 22mm (maximum) cable. Cable strength member retention is included as standard.

An excellent temperature range of -40 degrees to +65 degrees for extreme weather conditions and long term reliability. Compliant with IEC standards covering water immersion, UV resistance, temperature cycling, salt mist, fungus resistance, chemical resistance and re-entry testing.  

IP68 rating with water tight seal.
Suitable for direct burial.
With 1 x 24 fibre splice tray as standard.
Accepts a further 3 x 24 fibre trays (96 fibres total).
No specialist tools for access.
4 x cable entry points.
Dimensions: 432 x 186 x 100mm.

.