Finger Style Vertical Cable Management
£73.50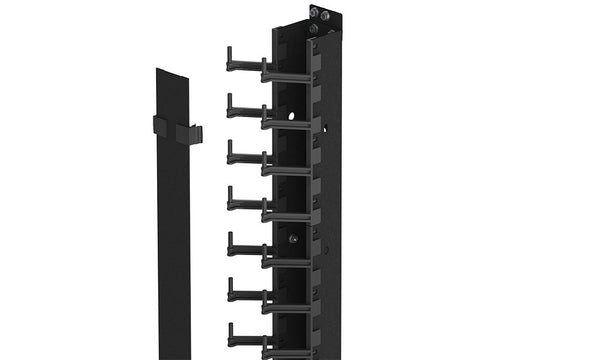 Finger Style Vertical Cable Management
£73.50
DESCRIPTION
SPEC & GUIDES
Vertical Finger Style Cable Managers in 27U - 45U height with cover simplifies cable routing during installation and maintenance. Metal channel with plastic cable management fingers and clip on metal door. Fits to 800mm wide EFS E Series floor standing Enclosures between the vertical 19" mounting profiles and the enclosure's side wall. Ideal for use within enterprise and data centre applications. Sold as a pair.

Suitable for use with 800mm wide EFS cabinets.
Finger design allows cable entry/exit from the side of the channel reducing the need for horizontal 19" management and increasing useable cabinet space.
Pass through slots in the channel allow front to rear cable entry.
Clip on cover protects cables in the vertical channel and provides an aesthetic finish.
Supplied with fixing hardware.
Channel dimensions 169.6(D) x 67.5mm(W).
Various U Heights available.
Sold as a pair with covers.

.