Server Cabinets, Vented Steel Front & Rear Doors (Floor Standing)
£517.50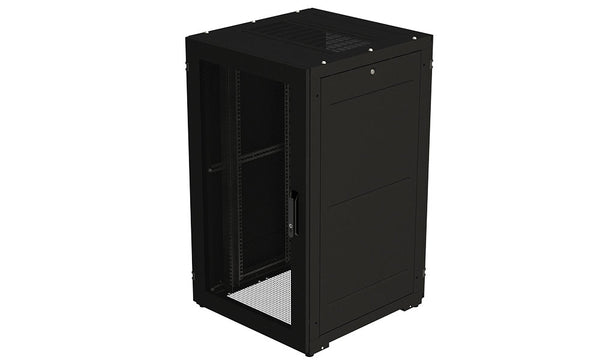 Server Cabinets, Vented Steel Front & Rear Doors (Floor Standing)
£517.50
DESCRIPTION
SPEC & GUIDES


EFS Floor Standing Server Cabinets are an expertly designed 19-inch solution, manufactured, and designed in the UK. Typically, available on next working day delivery. With Steel vented lockable front and rear doors providing ventilation for servers and other active equipment. Lockable removable steel side panels. Heights of 27U through to 47U in widths of 600 or 800mm by 1000 or 1200mm depth. Available in Black RAL9005 Powder Coated Steel as standard with Grey (NCS1502-Y) as an option. Supplied assembled with flat pack on request. Extensive range of accessories available including various shelf types, fans, and vertical cable management channels.

Manufactured in the UK.
Black RAL9005 Powder Coated Steel as standard, grey optional.
Lockable steel vented front & rear doors provide 80% ventilation for Servers/Active equipment.
Front & rear doors hinge left or right.
Lockable removable steel side panels.
27U – 47U heights.
Widths of 600 or 800mm by 1000 or 1200mm depth.
With front and rear adjustable mounting profiles.
19" front Profiles marked with U heights.
Optional vertical cable management for 800W enclosures.
Central integrated roof ventilated panel & brush panel cut out.
Open base design maximises cable entry for increased flexibility and speed of installation.
Static load 600kg, Dynamic load 500kg.
Supplied with transit castors to enable positioning.
Supplied assembled as standard, flat pack on request.
Bolt together construction facilitates rapid assembly/disassembly.
Large range of shelves, fans, & vertical cable management accessories.

Note: Assembled Enclosures of 800W x 800D, 800W x 1000D or 800W x 1200D will not fit through a standard single door frame. Flat pack is recommended if this is likely to be an issue. Please contact xSiCute for Flat Pack Pricing.

*Transport castors will take the weight of the cabinet during transport and moving into position. We advise the fitment of heavy-duty castors (not included, see accessories) before loading the cabinet.

See the EFS Server Cabinet Product Specification here.                                                See the instructions for Assembly of Flat Pack Cabinets here.