External IP65 72-144 Fibre Splice Termination Box (Also Accepts 54 x Couplers)
£81.96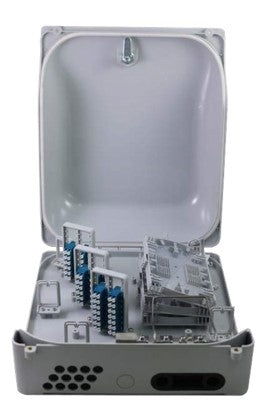 External IP65 72-144 Fibre Splice Termination Box (Also Accepts 54 x Couplers)
£81.96
DESCRIPTION
SPEC & GUIDES



IP65 rated FTTx moulded plastic external connection box. Suitable for use as a breakout box or splice enclosure. The patching area accepts up to 54 x LC Duplex or 54 x SC Simplex couplers*. Supplied with 3 x 24 position fibre splice trays and can accept an additional three trays if required. Trays are hinged to allow access to other trays and open beyond 90 degrees enabling unencumbered access to installed fibres. May be externally mounted on poles or walls.

With 15 x input/output ports with a cable loop facility for branch cable applications. When being used as a breakout box 12 of the ports will hold up to 4 x simplex or duplex drop cables.

A hinged lid opens to 180 degrees for easy access to the splicing and patching areas. A lid locking mechanism prevents unauthorised access and can also be screwed in place. UV resistant weatherproof providing protection from dust and water ingress.

* Couplers shown in image but not supplied with Termination Box.

IP 65 rating.
Accepts up to 108 fibres.
Accepts fibre couplers and/or splice trays.
Hinged lid and splice trays allow easy access.
Can be wall or pole mounted.
Multiple cable entry points.
Dimensions: 398 x 327 x 118mm.