Loose Tube Internal/External Fibre Optic Cable
£0.68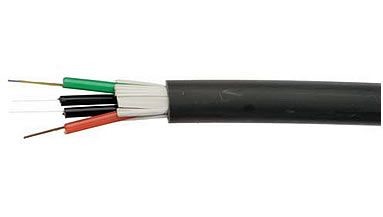 Loose Tube Internal/External Fibre Optic Cable
£0.68
DESCRIPTION

SPEC & GUIDES



Loose Tube fibre optic cable is suitable for external cable duct building to building applications with the water blocking gel making it ideal for ducting where water ingress may occur. With high tensile glass yarns to offer strength and basic rodent protection. Available cable is either Prysmian Draka or Leviton depending on availability.

Available in multimode and singlemode versions in 4 -24 cores. With a black internal/external UV stable Flame-Retardant Low Smoke Zero Halogen (LSZH) outer jacket to meet the requirements of the Construction Products Regulation (CPR) EuroClass Eca. See our Guide to CPR here. The outer sheath is metre marked and has a ripcord for ease of use. Cut and supplied to your required length.

Multimode OM3, OM4 and singlemode OS2 versions.
OM1 and OM2 to order.
Black LSZH outer sheath.
Metre marked sheath.
Ripcord for ease of use.
Cut to required length.
CPR EuroClass Eca.
Optical fibres colour coded to IEC 60304.