OM3 Multimode Duplex Fibre Patch Leads
£4.12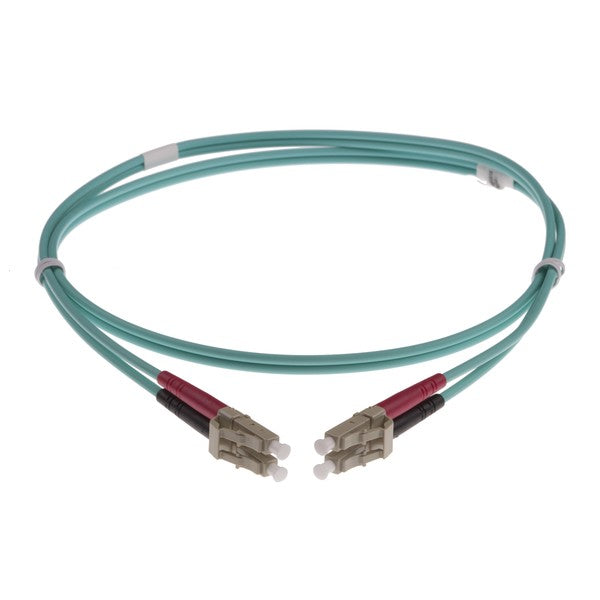 OM3 Multimode Duplex Fibre Patch Leads
£4.12
DESCRIPTION
SPEC & GUIDES



Fibre patch leads. Cost effective patch cords in multimode OM3 with ZIP Duplex LSOH Aqua cable in standard lengths with LC, SC and ST connector types. This imported range is available from xSiCute and sourced from an approved manufacturer providing a good quality solution for general networking in cabinet patching applications.


The patch leads have 2.8mm diameter cables (1.8mm on request) with 900um tight buffered fibres surrounded by aramid yarns, an LSOH Aqua sheath with ceramic ferrule connectors. With red and black strain relief boots for ease of identification. Connectors have protective fitted dust covers.

All patch leads (or patch cords) are factory polished, tested and individually bagged with the test data on the bag label. A maximum expected insertion loss that should not exceed 0.3dB but will typically be lower.

Cost effective imported range for general in cabinet patching applications.
2.8mm diameter LSOH Aqua ZIP cables. (1.8mm on request).
Standard lengths available from stock.
LC, SC, and ST connectors with ceramic ferrules.
Factory polished and tested.
Meets/Exceeds all TIA/EIA-568-B.3 performance requirements, Telecordia GR326-COM & IEC 61754-20.

Also see our premium quality in-house UK manufactured patch cords which can be manufactured to meet your precise requirements for business-critical applications. Range includes bespoke lengths, flat twin ruggedised, APC, armoured and simplex versions and assemblies utilising CPR Cca and B2ca cable.